Easy, Quick and Effective Treatment for Your Ingrown Nails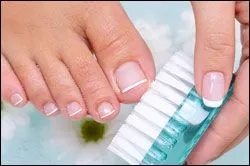 An ingrown toenail is a common, painful condition that occurs when the skin on the side of a toenail grows over the edge of the nail, or when the nail penetrates and grows into the skin.
Common symptoms of ingrown nails:
Pain and tenderness in your toe around the nail
Swelling of your toe around the nail
Infection of the tissue around your toenail
Redness around your nail
Never attempt to remove the infected nail on your own. When excessive swelling, pain or discharge is present, the toenail is probably infected and should be treated by a podiatrist. If you have diabetes or any other circulatory disorders, avoid any form of self-treatment and seek professional care from a podiatrist as soon as possible.
Avoid ingrown nail problems and infection. Contact our Alexandria office or fill out our contact form for safe and easy treatment for your ingrown toenails today!