Alexandria Family Podiatry specializes in the treatment of toenail fungus. If you've tried unsuccessfully to tackle your stubborn, unsightly fungal toenails with prescription topical creams and ointments or with prescription oral medications,
consider laser treatment. Our office was one of the earlier podiatry practices in the Washington, DC area to offer laser treatment for fungal nails. We've performed over 1,000 laser treatments on our patients who have been diagnosed with onychomycosis, or toenail fungus.
With our vast experience and advanced laser technology, the doctors at Alexandria Family Podiatry have the expertise to help you improve the appearance of your damaged nail. Here are some successful results from our laser treatment:

FOX LASER for Toenail Fungus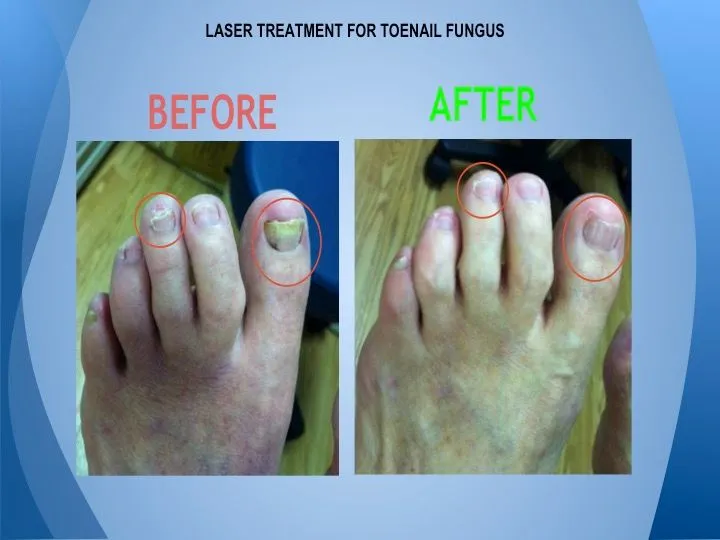 This patient's left foot had several infected toenails. Notice the big toe on the "before" photo. It is yellow, thickened, and brittle.
After several treatments, the "after" photo shows the big toe with new, healthier nail growth, which is more natural and clear in color.
The appearance of the third nail in the "after" photo shows a fuller, grown-out nail without any chipping or crumbling.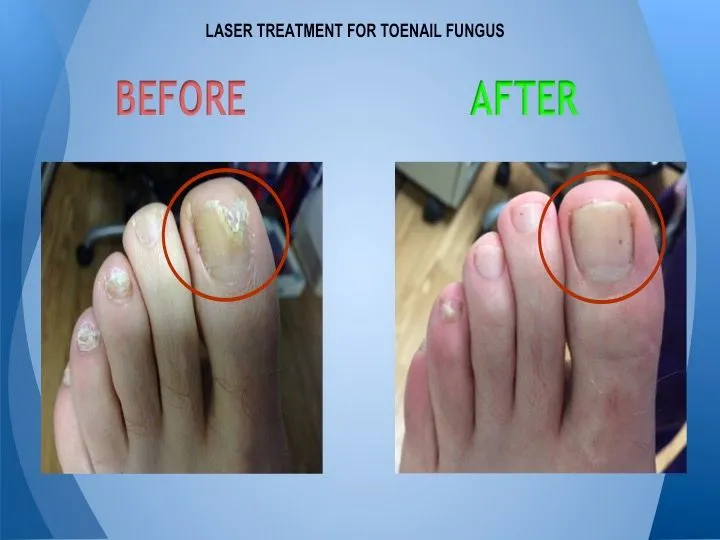 This patient was committed to battling his long-time struggle with toenail fungus. Dr. Lee and our laser technician followed an aggressive year-long treatment plan using the laser. The results speak for themselves. The toenails started out crumbly, thickened, and yellow--particularly the big toe. After laser treament, his toenails show greater clarity, luster, and healthier growth.